From Lust Till Dawn is a reader-supported site. Purchases made through links may earn a commission at no extra cost to you. Learn more.
Having lived in Queens and Manhattan, my friends and family ask me for my must-know tips for New York City. I always point them to the things NOT to do instead of only the things to do 'cause there's about 1000+ of those.
Here's 10 things NOT to do in New York City based on my friends and family's real travel experiences.
---
1. Don't eat at McDonald's, Olive Garden, or other large, corporate fast food establishments.
This is my most important tip on what not to do in New York City because New York is (in my humble opinion) the foodie capital of the world. Get the full New York City experience by eating anywhere but large, corporate fast food establishments.
Why eat at a fast-food spot like McDonald's that you can easily access at home? Eat at Brooklyn's top pizzerias and get a local take on Brooklyn with a lifelong Brooklynite*, or discover Lower East Side's diverse cuisine through knishes, mozzarella and more.
*I took this tour in 2016 and loved it because I got to go to pizza places that were on my list of places I wanted to eat at BUT the lines there are always SO long. Going with this tour helped us skip the line and learn way more about this place than if I went by myself.
Food App Suggestion: If you don't know where to go, then pull up Yelp (my go-to foodie app in the US), and find a place with 4+ stars near you,
Some of my Favorite Inexpensive Spots: If you're looking for inexpensive places to eat ($10 and under), try these 15 Cheap Places to Eat in New York City.
If you're on a budget, try these cheap eats for less than $5. They will blow your mind with how little money can get you a fantastic meal.
Check out delicious food tours in New York City here.
---
2. Don't go to Times Square in the middle of the day or even in the evening.
The best time to go to Times Square is after 11PM, or if you're out at a bar for awhile and can swing by the area, it's even better at 3AM.
You'll have Times Square (almost) to yourself without the sardine-packed-cow-herding-baby-step-shuffling mess you have to deal with during the day.
I usually bring my guests to Times Square after hours.
It's so surreal and quite calming being surrounded with such bright lights shining solely on you!
---
3. Don't hang out or walk slowly on the left side of the sidewalk or the left side of the escalator.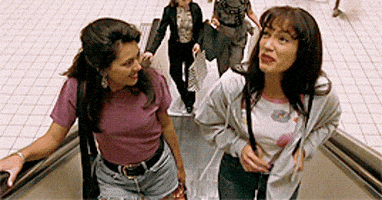 Yes, you want to spread your arms wide and circle around with glee as you take in the NYC scenery and breathe in the excitement in the air (scratch that, minimize the breathing– it's polluted as fck in NY), but do it on the right side of the sidewalk.
This helps minimize traffic congestion and keeps the pedestrian flow moving efficiently, which is important in a city with almost 9 million people.
This will also help you avoid the impatient business men rushing off to the so called most important meeting of their lives and their startling 'yell at that tourist to get out of my way' anger.
When in doubt, think of driving rules, and apply them to the sidewalks and escalators of NYC– right side is for the slow or still guys, left side is for passing!
---
4. Don't rely solely on credit cards and debit cards.
There's a lot of mom and pop shops in NYC, and a lot of them still only take cash like my main boo, Saigon Shack, when I was living in Greenwich Village. Don't miss out on the good spots to eat just because you don't have cash.
Also, you never know when you're going to need to pull a single out for some attention grabbing, soul singing street performers. Cross your fingers, and hope the barbershop quarter finds its way to whatever subway you're riding on!
---
5. Don't make plans all over New York without considering travel time.
Even though visiting New York sounds like it's easy to get around 'cause you're in New York (mentally, it's all one place), the travel time to multiple places can be unexpectedly consuming. Try planning a few things in the same borough, same neighborhood, or at least on the same side of town (west side vs. east side).
Real Life Experience: I learned this tip from family members (with a kid in a stroller) who came to NYC for a day. They made plans to see us in the Upper East Side, Financial District, and back up to Times Square.
Travel time to each of these places took about 20-30 minutes (especially with a kid in a stroller), which ate up 1 and 1/2 hours of their short 10 hour visit. Don't make the same mistake as them and make this a priority on what not to do in New York.
---
---
6. Don't forget to use the toilet when you can.
Hahahaha! I'm laughing at myself for putting this one up, but seriously, there are not many convenient public toilets like there are in Europe and other parts of the world. You either have to go in a restaurant or bar that you've already bought something in or have to pretend you're a customer to go to the bathroom*.
I've seen multiple friends have this issue of not being able to find a bathroom when they need one so whenever there's a bathroom available, I ask them if they need to go like the good mommy friend I am. This is such an apparent issue that some McDonald's has bouncers at their bathrooms (but you wouldn't know that because you're not going to step into a McDonald's while in NYC), and there's even a SitorSquat app that tells you where you can find toilets nearby.
Edit 11/20/16– Thanks to Casey, we have another great tip! Use the bathrooms at any public library. If you're going to the winter village at Bryant Park, skip the long lines and head to the NYPL.
---
7. Don't tip 15%.
15% might be standard tipping etiquette in other parts of the United States, but in New York City where the rent prices are ridiculously high, one subway ride costs $2.75, and a god damn cocktail can cost $15, the standard tipping rate is a minimum of 18% but on average 20%.
I only tip 15% if I get bad service, which my husband makes fun of me for because none of the servers I've disliked will ever know that they sucked balls at serving food.
Tip: You can make up the difference you spend on tipping by saving up to $100 on NYC sights such as the Empire State Building, Metropolitan Museum of Art, and more.
---
8. Don't accidentally go on the express subway.
It cracks me up when I'm supposed to meet a friend in 20 minutes of which only 10 minutes is supposed to be on the subway, and then an hour later, I finally hear from my friend who says she's in Brooklyn when she's supposed to be in Manhattan– hahaha!
Ok, not that funny, but here's how to prevent it. Don't accidentally go on the express subway. There are express subways and local subways. The express ones only go to the more significant stops and skip a few of the local stops.
The express vs. local are clearly marked with signs, or just ask someone around you for help! New Yorkers love helping people get to their destinations, and basically, showing off their street cred/knowledge (maybe that's just me…).
Here's what I think. If you go into a situation assuming people will be cold and mean, then most likely you'll get the same energy you put out there.
For all my warm-hearted, life-loving friends who've visited in New York, they always share their stories with me about how the nicest New Yorkers ever who helped them find their way or gave them excellent recommendations on things to do. I think they got back the loving and happy energy they put out.
So love and be loved (and ignore that occasional business guy on a rampage to get to the office).
---
Resources
These apps are my favorite for getting around NYC.
If you're looking for things TO do such as visiting the Empire State Building and the Metropolitan Museum of Art, save up to $100 on 6 sights by buying a CityPass with this link.
If you need a reliable and professional car from the airport, try Blacklane cars. They provided me a complimentary ride from the airport one time when I was visiting home.
---
If you have any other suggestions for our awesome travel community to make their New York trip more enjoyable with things they shouldn't do, then comment below!
Thanks for stopping by! xo.
---
Helpful New York City Blog Posts
PIN THIS POST FOR LATER