From Lust Till Dawn is a reader-supported site. Purchases made through links may earn a commission at no extra cost to you. Learn more.
In the past 17 years of traveling, I've owned 5 carry on luggages ranging from $50 to $250+. They've traveled with me near and far to various countries on trains, planes, busses and cars.
Of them all, there's one I'd recommend as the best carry on luggage under 100.
This is the best carry on under 100 not only because of its price but because of its excellent value. The smooth wheels, zippers and features make this an easy choice as your carry on suitcase for your next trip.
TLDR – Already know you want this carry on luggage that has 4.8 stars from over 36,000 reviews? Check it out here.
---
Reasons Why This is the Best Carry On Luggage Under 100
Recently my sister traveled by herself with her toddler in a stroller, two backpacks and this carry on luggage under 100! She said because of the smooth 360° wheels, traveling through the airport with all this stuff on her and the stroller was a breeze. It's one of the best suitcases she'd ever owned and now part of her travel must haves.
I had to check it out myself to see if it'd meet my standards of traveling every 1-2 months as a travel blogger.
Here's what I found to be the best features of the iFLY carry on suitcase with 4.8 stars from over 36,000 reviews.
Smooth 360° Wheels
To be considered the best carry on luggage under 100, there's no ifs, ands or buts. The carry must have smooth 360° wheels good for the most common travel conditions.
This carry on has 360° wheels, which makes it easy to pull behind you like you would a traditional suitcase, or better yet, simply walk alongside it since all four wheels move.
It makes it especially easy for boarding a plane as you can turn the suitcase sideways and roll it in front of you in the narrow aisle.
These wheels make it really easy to travel through an airport especially since an airport's floors are usually smooth. But they also maneuver quite easily over cobblestone streets, which is great if you're traveling in historical parts of cities (i.e. Meatpacking District in New York City).
It's available in many colors such as black, rose gold and champagne.
Expandable
The iFLY carry on luggage has an extra zipper that allows it to expand an extra two inches.
From personal experience, this is really handy when you fly to one destination but are moving around once you get there. Because of the extra space, you don't have to pack everything all neat and tidy every time you switch hotels or move to a new destination.
For example, you fly to Italy with only a carry on but are driving around to multiple destinations.
When you fly to Italy, you would pack your clothes neatly so your suitcase shuts and meets the airline's standards.
When you arrive to Italy, when going from your first destination to your second, instead of trying to make everything fit nicely in your suitcase again, you can simply unzip the expandable part, throw your clothes in haphazardly and still get everything to fit in your carry on from personal experience.
That way moving from destination to destination won't involve such meticulous packing each time.
Smooth Zippers and Handle
The iFLY carry on luggage has really smooth zippers that make opening and closing your luggage a breeze, but even better, the handle has two height settings and is also really smooth.
From personal experience, handle smoothness is absolutely key when you're trying to get into your Uber to head to the airport or there's a long line of people in the aisle behind you waiting for you to put your luggage in the overhead bin.
The faster and smoother your handle goes up and down, the better for you and everyone else!
See why it got 4.8 stars from over 36,000 reviews here.
Efficient Design
The carry on is designed in an efficient manner.
There's a zipper compartment to store smaller items on top of a closure that zippers up one entire side.
This is really handy for when the suitcase is on its back (the side where the handle is) because you can close the suitcase without any of your stuff falling out!
On the other side is a tie down strap to keep all your clothes.
Aesthetic Colors
If you're not into the neutral champagne color though, there are many colors to choose from including an ombre cotton candy one!
I'll have to admit what first drew me into this carry on luggage besides the price was the color. The champagne color is quite aesthetic and also differs from a lot of peoples' luggages making it easy to spot.
As of 12/29/2022, these colors are available for only $78.00. Price and availability are subject to change.
As of 12/29/2022, these colors are available for $89.00. Price and availability are subject to change.
---
"Downside" of This Carry On Luggage Under 100
I have a couple of carry on luggages in the $200-250 that have built in TSA locks.
This carry on luggage under $100 doesn't have one.
I'm not sure if it's because of the price but after experiencing a built in TSA lock from the pricier carry ons, I'll have to admit that it would be nice if this luggage had one.
But considering the price and value of this carry on, if you plan on using this as a checked in bag and absolutely want a lock, you can easily buy this TSA approved lock.
You can also use the locks at the gym or anywhere else you need a locker so it wouldn't just be for travel!
See why this carry on got 4.8 stars from over 36,000 reviews here.
---
Technical Specifications of This Carry On Luggage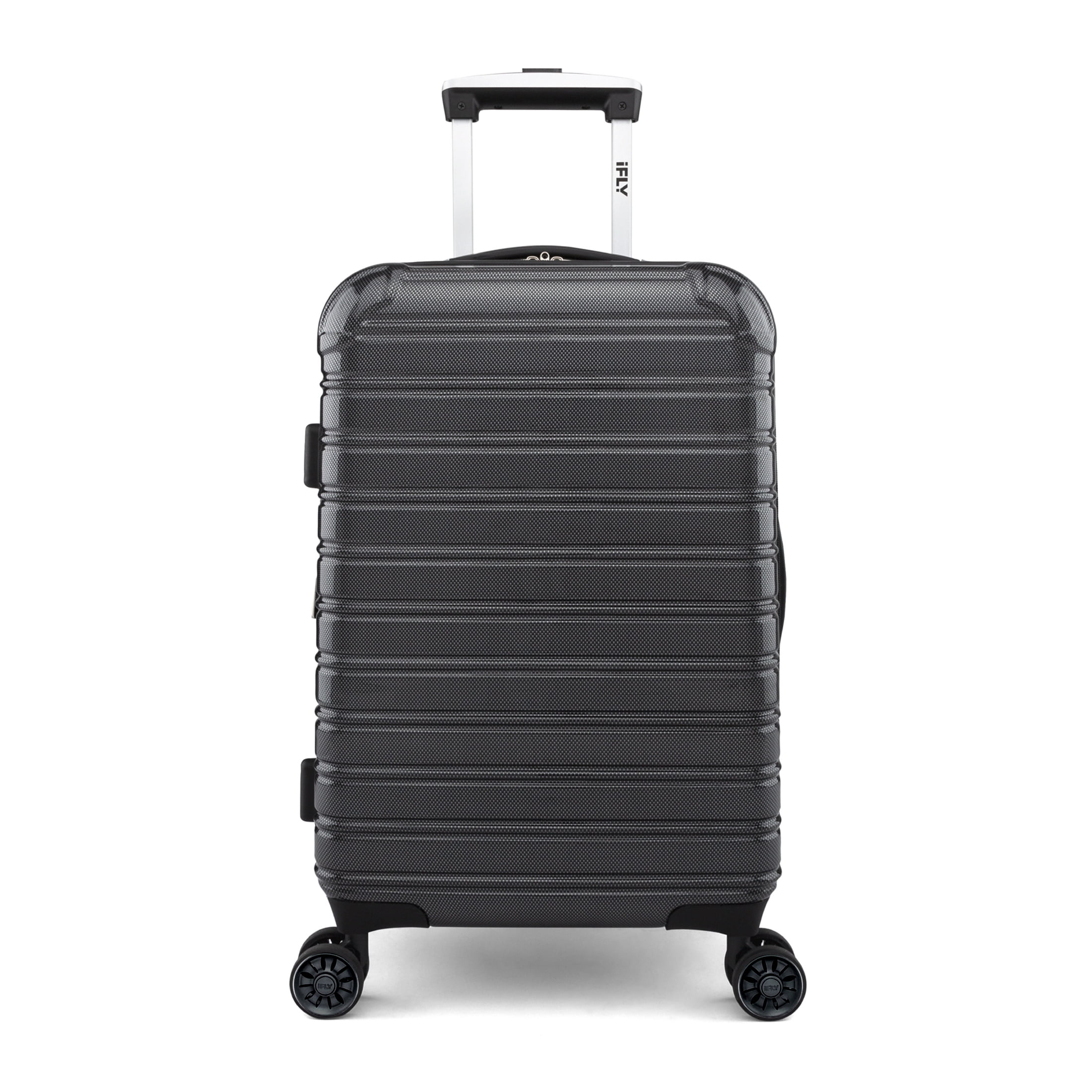 Here are the technical specifications of the best carry on luggage under 100 straight from the product's listing.
Lightweight 20 Inch Carry-on: 6.8 lbs / 3.08 kg
Dimensions with carry handles and wheels: 22″ x 14.5″ x 10″
Dimensions of case only: 20″ x 14.5″ x 10″
20-year warranty
4 electroplated double wheels ensure 360 degree navigation
Electric ABS/PC design
Expansion zipper adds 2 inches of packing space
Deluxe full lining pocket creates second compartment
Electroplated reflex rubber carry handles
Multi-stage telescopic trolley handle system
Tie-down straps to keep clothes in place
Check the price for the carry on in:
---
Any other questions about this carry on luggage under $100 that I love? Comment away and I'll get back to you soon.
Otherwise, get the same carry on I have here in black (popular choice) or champagne (the one I have).
---
Like this post? Share:
Best Carry On Luggage Under 100 (Tested on Cobblestone Streets)