Sometimes life brings us to unexpected places, but that's life! We learn to deal with it the best way we can, right?
Well, my unexpected place was Stamford, Connecticut, which for all of you wondering "where the heck is that?"
It's 45 minutes outside of New York City & the first express stop on the train from Grand Central to New Haven.
Although I lived in New York City, I worked very looong and stressful days in Stamford. I made the best of my work life by finding out what makes my heart jump for joy– discovering the best restaurants of Stamford.
Before I get started, a note to the locals, forgive me for not putting Bar Taco, Colony Pizza, and other trendy or longtime establishments, but it's time to mix it up from a foodie's perspective!
On that note, Colony Pizza is terrible. I think you mixed pizza up with "pizza". Sorry to be harsh, but have you had New Haven, New York, or Italian pizza? Let's talk after that. #truthhurts #istillloveyou
For now, let's jump into the list!
---
Best Restaurants in Stamford for Lunch
El Charrito
Seasons Eats
Fin II Japanese
Best Restaurants in Stamford for Dinner
Navaratna
Fez
Barcelona
Cafe Silvium
---
Best Restaurants in Stamford for Lunch
El Charrito
what I call "the taco truck"
I am a traditionalist through and through with so many cuisines, and I've found that to be especially true with Mexican tacos. Before El Charrito aka "the taco truck", I had mainly been exposed to tex mex or overcooked, tasteless tacos.
Then the taco track changed my feelings about tacos!
I loved them– well, as long as the meat was tenderly cooked for hours with just the right amount of seasoning, the shell was double layered to support the juicy meat, and there was onions, cilantro and a good squeeze of lime juice to go on top of each taco.
So basically, I love the taco truck's tacos.
Aside from being cooked well, these are really cheap at less than $3 per taco. So on my good-as-taco-truck's-tacos hunt, I have yet to find just as good as tacos at the same price.
Bonus!!! If you like strip clubs, there's right one right across the street from this taco truck— lolol.
Helpful Sites: El Charrito site, Yelp
I recommend: Pork + beef brisket tacos plus anything on their specials board
Price: each taco is about $2.50-3.00
Location: 7 Apache Pl, Riverside, CT 06878 | +1 203-990-0200
—
Story time: By the way, I was ordering delivery from them one night for dinner at the office (hooray…), and I spoke with the owners on the phone. They used to be the chef at the office building I was calling from! So I asked more about their story.
They used to be chefs for corporate buildings, but then saved up their money to start this food truck of theirs. Thank god for following their passion and making my tummy so happy! Now, they also have a standalone shop in Greenwich, CT. It's so nice to see them succeed in doing what they love.
---
Seasons Eats
This is a deli open for breakfast and lunch with high quality ingredients. Their prices are on average higher than most delis, but you'll get exactly what you pay for, if not more!
It's a good idea to get pretty much anything on the menu, but the sandwiches and soups are where its at.
Helpful Sites: Seasons Eats site, Yelp
I recommend: Italian sandwich, Lobster chowder or really anything
Price: $10-12 lunch
Location: 29 Bank St, Stamford, CT 06901 | +1(203) 324-2583
---
Fin II Japanese
Again with the traditionalist thing, I like my sushi with more fish than rice. I've noticed a lot of Americanized sushi places pack on the rice on the sushi because, well, Americans like to eat more, but that's not the case with Fin II.
Out of handful of sushi places I've tried in Stamford, Fin II does the best with serving a proportionate amount of fish to rice meaning 80% fish in the rolls and 20% rice, like it should.
Aside from the fish being fresh and prepared properly, the rice is seasoned well too with just a hint of vinegar to bring out the flavors in the fish, not mask them.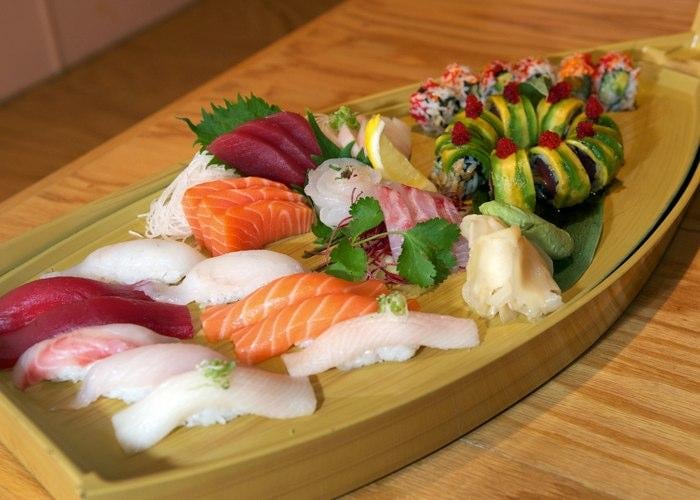 Helpful Sites: Fin Sushi site, Yelp
I recommend: The lunch special with 2 items (dim sum or sushi rolls) plus a salad and and soup for $8. Otherwise, sushi, sashimi or the beef negimaki dim sum.
Price: $10-15
Location: 219 Main St Stamford, CT 06901 |+1 203-359-6688
---
Best Restaurants in Stamford for Dinner
Navaratna
Navaratna serves both authentic North and South Indian food that's packed with spices leaving each bite with a mouth-watering taste.
This is a place you go for the food, not the service or the ambiance, so focus on the food! It's delicious.
Many people (specifically meat eaters) avoid this place because it's only vegetarian, but you must try it vegetarian or not. lame…
You will have a whole new view on what vegetarian food can do for your senses aka totally wow the f*ck out of them. Doesn't that sound awesome?
This spot is great for lunch too, but you know how Indian spices are. They stick to your clothes, hair, and your beard (if you have one) so if you don't want to bring back a cabinet of spices with you to the office, wait for dinner to have this.
I especially love coming here in the winter because most of the food warms you from within.
Helpful Sites: Navaratna site, Yelp
I recommend: Fo sho fo sho, the mulligatawny soup. They serve the best mulligatawny soup I've ever had. Samosas, Aloo Gobi, any of Vedas, any of the Kormas.
Price: $10-15 a person
Location: 133 Atlantic St, Stamford, CT 06901 |+1 203-348-1070
---
Fez
Update 9/15/17: This restaurant has a new owner, and the food is not as good as it used to be. Plus, the prices are waaaay more expensive than when I first started going there. For the price and quality, I can't really recommend people going there anymore. If you want to try it out once, go right ahead! I left my existing review.
Old Review: I recently checked Fez's Yelp page and am so happy to see that they have a lot more reviews, which means a lot more traffic.
Back when I first started going to Fez, it was the most underrated restaurant in Stamford. The lamb was always juicy, fried chickpeas were crispy, and basically all their food was cooked to perfection.
On top of that, they had great, live music, but the restaurant would always be nearly empty. I just didn't get it, but people have either gotten smarter or hungrier and have flocking to this place more and more because it's so damn good!
You won't be disappointed in a single dish as everything as true Moroccan flavors and a great balance of textures. Also, like I mentioned above, they have live music on weekends along with a good selection of wine.
I would come here on a date or to hang out with friends to share small plates and drink a bottle of wine or two for those nights you don't want to rage by getting wasted at Black Bear or another bar, but still want to go out and have fun.
Bonus: The servers and owner here are ridiculously nice. They will wait on you hand and foot for whatever your heart desires. #bestfriends
Update: I went to Fez mid-April 2016, and wow, this place is so popular now. You MUST make a reservation as week in advance. Otherwise, you won't get a table. I'm so happy to see that this once underrated restaurant is constantly full and making so many people happy.
I recommend: the Lamb Shank for succulent falling off the bone type of meat, crispy chickpeas and oka appetizer, hummus, cauliflower and other plates to share with friends
Price: $15-25 a person
Location: 227 Summer St Stamford, CT 06901 |+1 203-324-3391
---
Barcelona
I wasn't quite sure if I was going to include this one because it's technically a "chain" with three locations, but I can't uphold my food snobbiness all the time!
It would be so wrong especially in a tapas restaurants where everything tastes so right.
Yes, you heard right– I said TAPAS!
Just about everything I've gotten here has been delicious, succulent, and mouthwatering, but what makes it even more special is that it takes just as good as food I've had in Spain!
Get as little or as much as you want, and share, share away all these small bites with your friends and family.
As a very awesome bonus to any dining experience, their wine selection is pretty extensive! They are actually called "Barcelona Wine Bar" so you know their wine has to be good.
Helpful Sites: Barcelona site, Yelp
I recommend: Hanger steak, Shishito peppers, and I was going to say the lamb tapas but I don't see it on the current menu. If you ever see lamb on the menu, get it!
Price: $30-60 a person depending on if you get drinks
Location: 222 Summer St Stamford, CT 06901 |+1 203-348-4800
---
Cafe Silvium
Added 9/15/17: Last night I went to Cafe Silvium for my mother-in-law's birthday, and for someone who doesn't love Italian food in America, I really liked this place because the prices are really good for what you get.
If you go, definitely get the handmade fettucine with marscapone and shrimp! That was my favorite. The braised short ribs on the special was delicious too.
I loved the environment as it feels like I'm in a cozy restaurant in Italy. It's inviting, warm, and a good place for conversation with those you love. The service is fantastic too!
Pictures to come soon!
Address: 371 Shippan Ave, Stamford, CT 06902
---
Welp, there you go for the best restaurants in Stamford, or really, my favorite restaurants in Stamford discovered from one whole year of basically eating every weekday lunch and dinner there!
Got any spots to add onto the best restaurants in Stamford list? Share below!
Thanks for stopping by! xo.
---